Sellers, Sellers, and More Sellers!
Whether home sellers advertise underground sprinklers or underground storm shelters depends a lot on where they're selling.
Home seekers in Arizona have a common concern about where to park their other home — the one on wheels. According to a recent analysis of data,  you're more than 450 times more likely to find the word "RV gate" in an Arizona sellers listing than in any other state.
On the other end of the country, in Maine, seller listings are 143 times more likely to mention an attached barn. And not everyone can have a view of New York, but home shoppers seeking that skyline scenery are almost 500 times more likely to find one if they're home shopping in New Jersey for the keyword "nyc view."
Zillow analyzed last year's real estate seller listings to find out which unique terms set apart each of the 50 states in 2015, and the results reveal some unique local trends and hobbies — and some hard truths about the weather.
For example, Minnesota seller listings are more than 40 times more likely to boast "in-floor heat" to keep your feet warm on those Up North mornings. In Florida, hurricane shelters are 125 times more common than in the rest of the country, but so are screen patios (26 times more common). Oklahoma listings reassure you there's a storm shelter 114 times as often. In Montana, sellers are eight times more likely to advertise a rock fireplace when selling.
In Missouri, seller listings are more than 2,500 times more likely to mention a John Deere Room. Listings in Nevada mention casinos 14 times as often as elsewhere, while Utah listings are 53 times more likely to make reference to a ski resort, and Wisconsin listings are more than 20 times as likely to point out a bar in the rec room.
Check out some of our favorites from each of the 50 states below, and take our quiz to test your listing amenity smarts.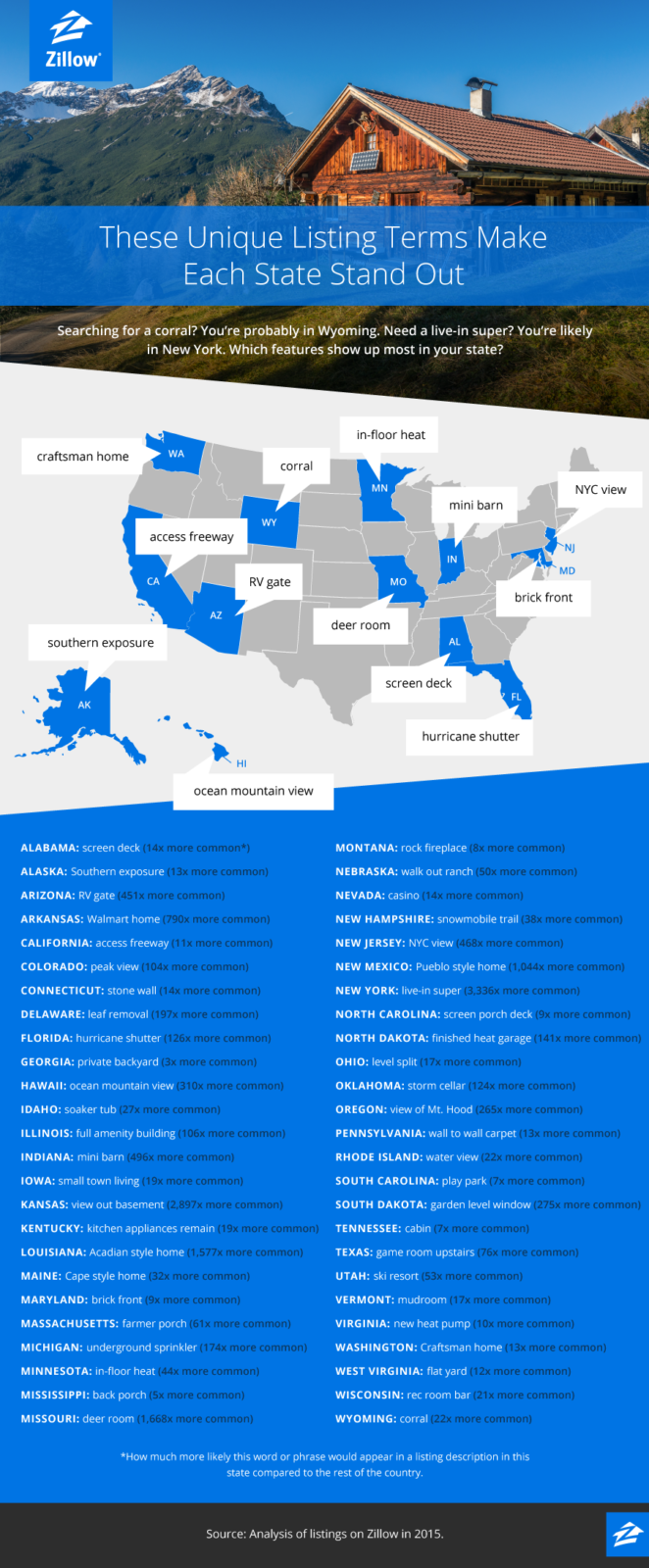 Provided by: Steve Freeman, Realtor at Coldwell Banker Alfonso Realty
About the Author
MSHOMESTORE Properties
[idx-platinum-widget id="15336-34958″ ]
Search the Coast!  Real Time MLS (Multiple Listing Service)…You see what I see!
[idx-platinum-widget id="15336-13438″ ]